#NACAC2022 c/o Instagram!
The annual NACAC conference was hosted in Houston, TX. I had the pleasure of taking over our Iowa ACAC social media for a few days to bring you highlights of the conference. I'm recapping the trip in case you missed our stories!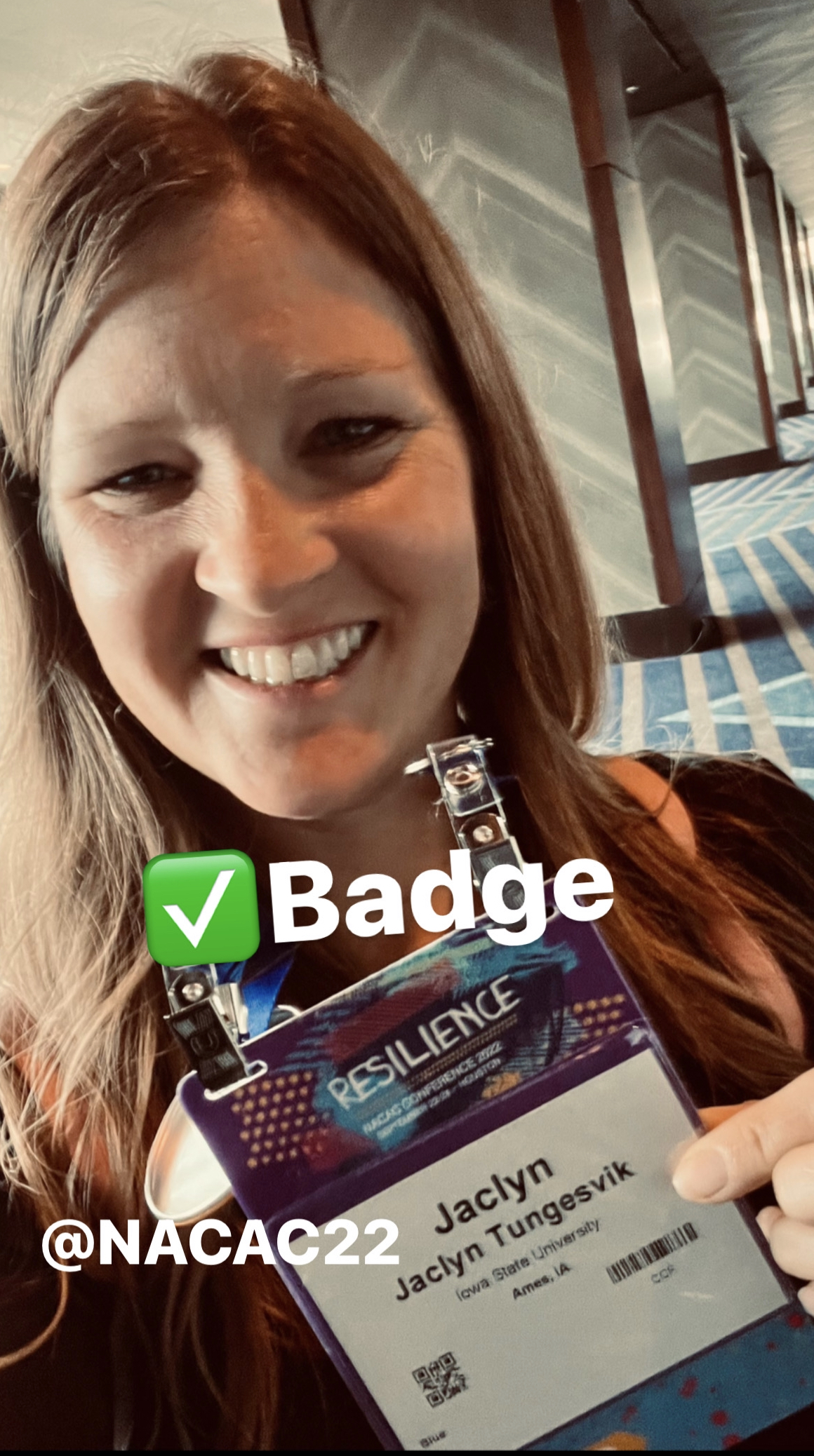 BADGE
Registration was easy! We provided proof of vaccination or negative test using the Clear App before arrival so all I needed was my bar code. The volunteers are always AWESOME and helpful. They scanned my code, gave me my badge, and I was off!
Hawaiian Host Island Macs- yes, please!
My friend from Hawaii ACAC gifted us with the best chocolates.
RESILIENCE
The conference theme was RESILIENCE. We're all defining new/better ways to be resilient.
Catch Up w/Iowa ACAC Royalty
Would it be NACAC if I didn't reconnect with old friends?
Exhibit Hall Prep Work
I got a bird's eye view of the Exhibit Hall before it opened. The fancy carpets and sleek booths for all our favorite vendors were back.
Meet our delegates!
Your representatives for what could be the final meeting of the delegates included Connor Ellinghuysen with Buena Vista University, Jaclyn Tungesvik with Iowa State University, Chevy Freiburger with Central College, Drew Shradel with Cornell College, and Lauren Garcia with Coe College.4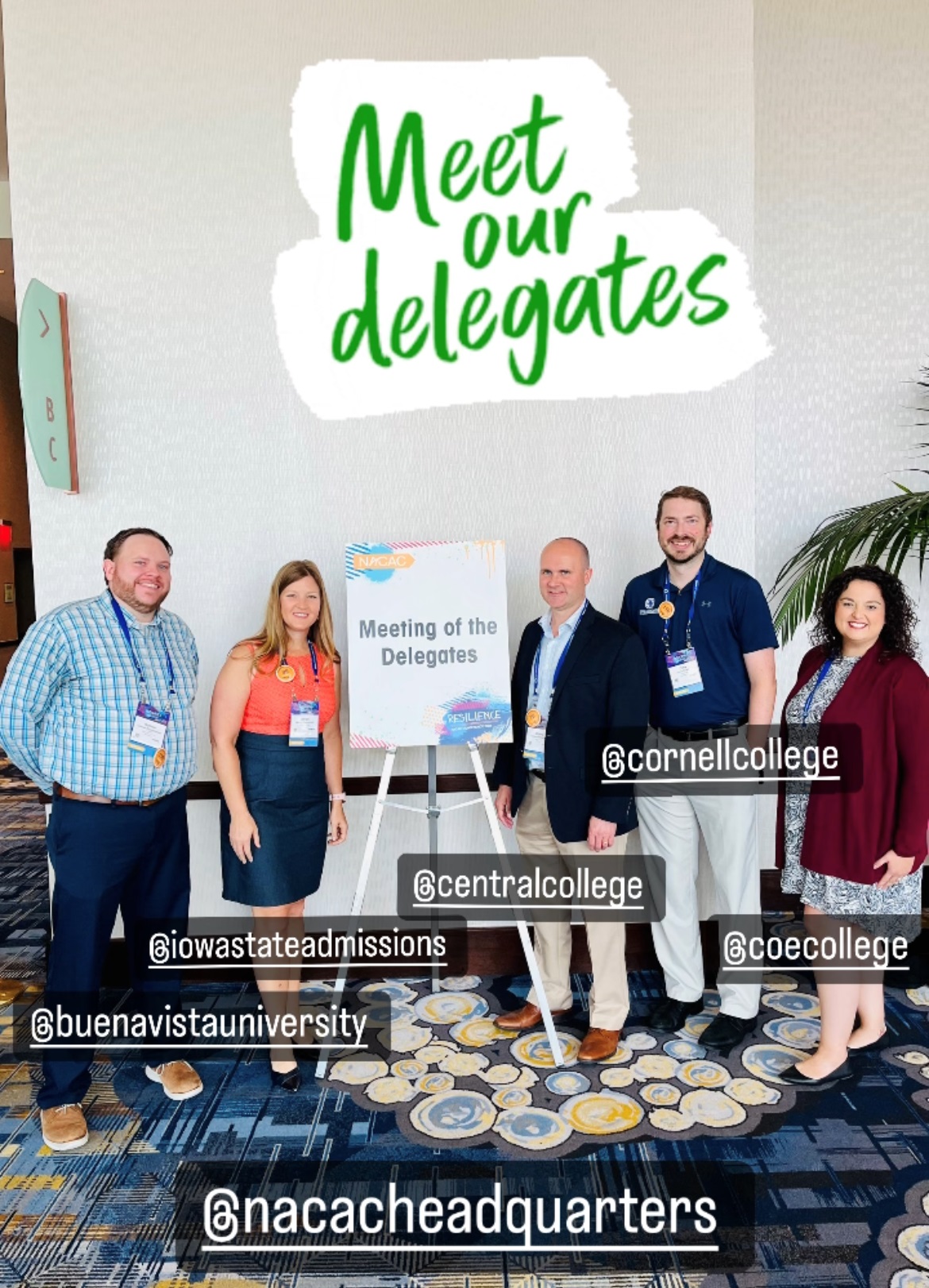 Local Talent
We were ushered into the first mainstage by a local area drum corp. Performances by local groups are coordinated by the host affiliate and local arrangements committee and they are a staple at any NACAC conference.
Main Stage Billy Porter
Emmy, Tony, and Grammy award-winning actor, singer, director, composer, and playwright as keynote.
HOT in Houston
Like 95 degrees. Found some nice shade, though.
Education Session: Paying for College
I got the real scoop! Lots of data on financial aid trends from the perspective of HS students & families.
NACAC Welcome Reception
I spied some of our favorite school counselors from Central Academy at the welcome reception enjoying some Texas flavor and hospitality.
University of Iowa pros
We hosted our membership meeting @ Frost Town Brewing, a little affiliate business plus socializing.
Ryde Vehicle
Our fearless leader, President Drew Shradel, booked us an electric Ryde for the evening.
Meet your Match
Chevy met 2! NACAC has a promotion to help you network during the conference where you find others whose number matches your button. President-elect, Chevy was a 76er!
23 affiliates in APC, 3 President's Classes, 1 FLEX
I spent time with my Affiliate President's Class made up of the past-presidents from all 23 state/regional NACAC affiliations. This is an incredible network of talented, dynamic, vocal leaders.
NACAC BACKPACKS
I'm always impressed with the Backpack game at NACAC.
Better Together
Photo credit @Tom Paulsen- one of his quintessential group selfies.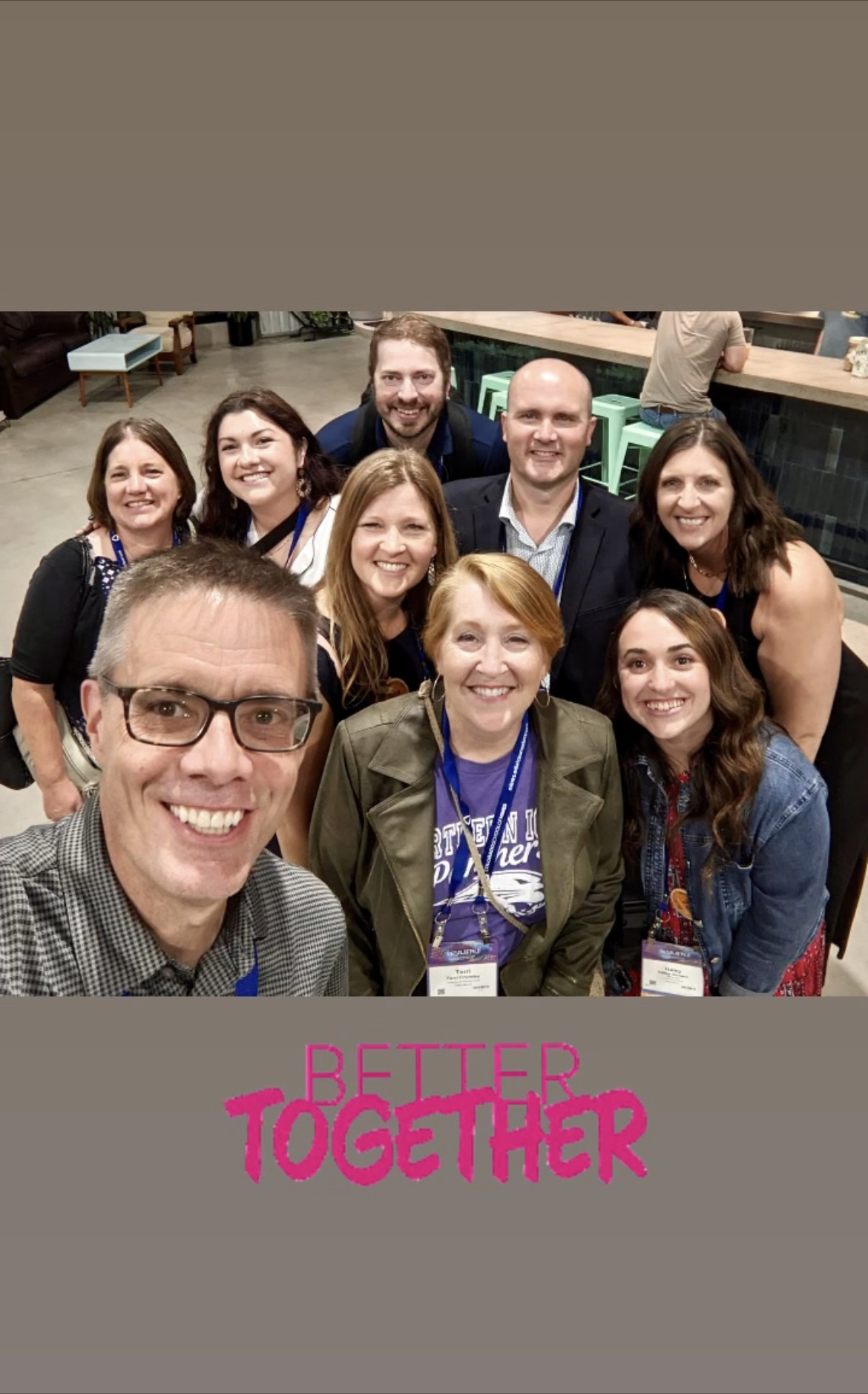 The conference was fun, informative, and inspiriting. Iowa ACAC was well-represented. As I left for the airport, I made sure to pack some resilience for the road. There are a lot of big things ahead in college admission counseling and I think we're all going to need it!
Jaclyn Tungesvik, Iowa ACAC Past-President
Share this post: