Bending and Flexing for Advocacy
I had a professor in grad school who often reminded us that as school counselors, we need to "bend and flex." The Government Relations Committee bent and flexed its way right into 2021, creating what has been touted--mostly by members of the committee--as the best Virtual Visit the Hill ever. We hope it is also the only Virtual Visit the Hill ever, but we've certainly exercised our creative thinking skills to learn what we can do when our usual practices are disrupted. In a year when it would have been easy to say, "Nah, maybe not this year," Iowa ACAC and ISCA's Visit the Hill delivered on its promise of learning and advocacy.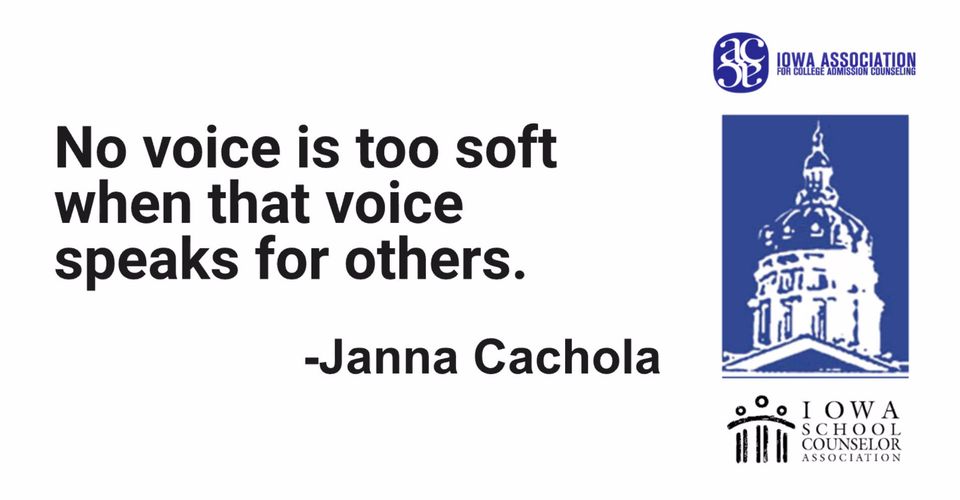 Nearly 75 college admissions professionals, school counselors, and graduate students, and about 30 secondary students gathered via Zoom on Thursday, February 25. Participants had the opportunity to engage in conversation with former Iowa representative Scott Ourth and his associate Dave Epley about efforts the legislature has made to support students seeking postsecondary education and training, and Jim Obradovich of The Capitol Group, who provided an overview of how to advocate for one's position with legislators, with special attention paid to advocating from afar. The conversations were wide-ranging, as participants shared concerns about underserved populations seeking postsecondary education and training, asked questions about the specifics of various grant and scholarship programs, reflected on large-scale economic concerns when there is a mismatch between employer needs and workforce preparedness, and learned a bit about how the legislative sausage is made and effective advocacy.
While we missed the doughnut holes and conviviality, we gained an opportunity to learn what's happening in our state and how to use our voices, our experiences, and our stories to advocate for the positions we believe in.
Share this post: