Perspectives on a First Travel Season
Traveling was one of the biggest things that attracted me to the Admissions world. I never was one who liked staying in one place over a long period of time. I always knew there was plenty of uncharted territory waiting to be explored and I found ways to do just that. 
With my side gig of broadcasting collegiate wrestling, I've journeyed to 16 different states in the last seven years with sometimes being in a different state every weekend. I also had the chance to travel as an admissions intern last year to seven college fairs and seven high schools. I met new people everywhere I went and established relationships that are still strong today. Even though it was tiring at times, I loved every second of it and knew working as a University of Northern Iowa Admissions Counselor would offer the same rewarding experience.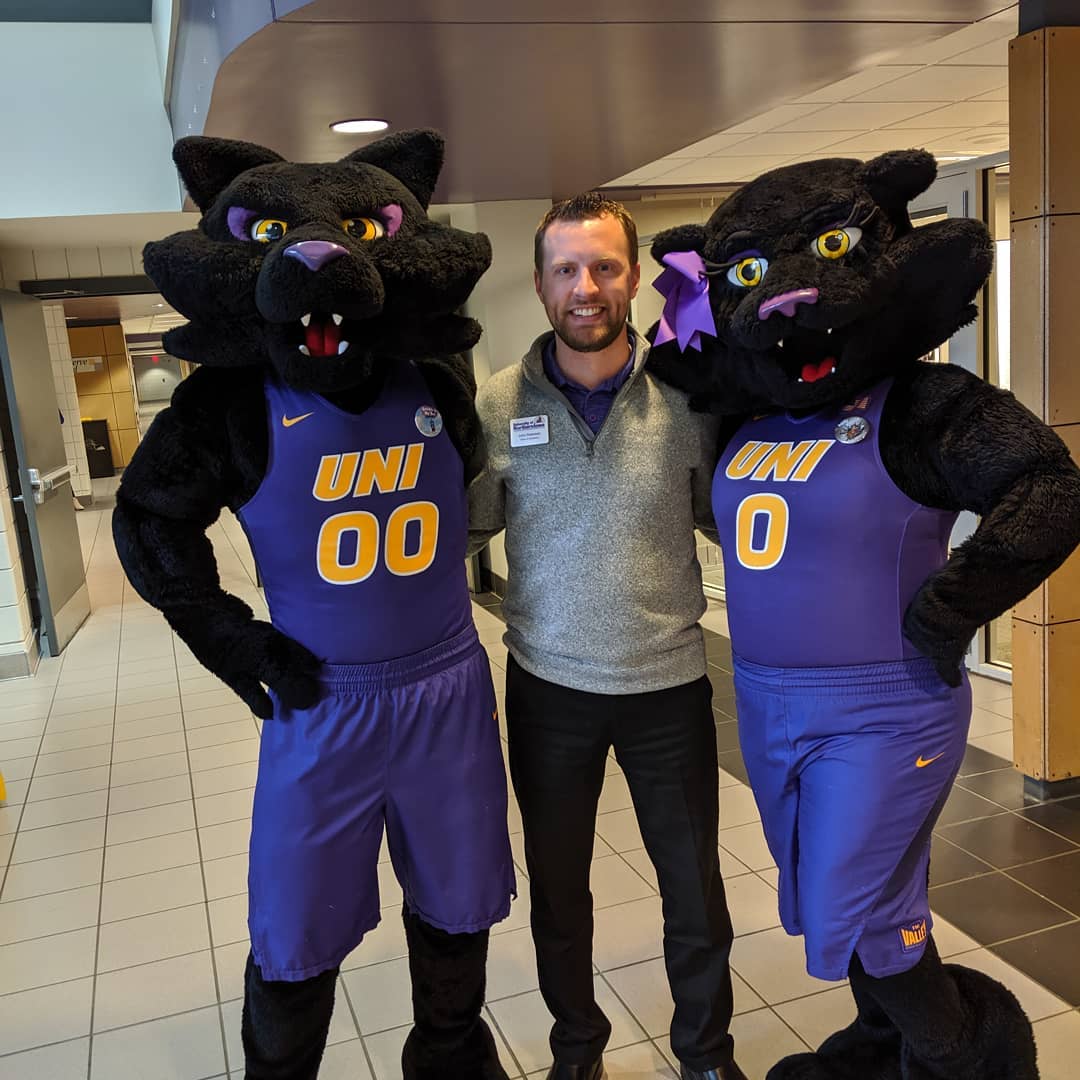 My traveling season started on September 4th with my supervisor assisting the first week. Jesus taught me a lot in a short amount of time. He made sure each high school visit went smooth but was unique at the same time. Each group of students is going to be different and it is important to make sure their questions are answered. He also focused on the importance of building relationships with not just the students but the counselors. I made every attempt to speak with the high school counselor or secretary to update them on any changes in scholarships or the application process. Even if no students showed up, it was important to always talk to someone about UNI at every high school.
My territory consisted of the northwest region of Iowa and southern region of Minnesota. I thoroughly enjoyed these areas because of the many small towns I visited. I came from a small town and found the high school visits bringing back memories of when I was in grade school. A lot of the schools were K-12 and had one counselor for everything. They knew all the students by first name and were excited for them when they showed interest in furthering their education. I also enjoyed the bigger school visits because it brought me out of my comfort zone. I wasn't used to parking in a visitor's parking lot and having to show my ID at the school entrance. Most of the schools' common areas were bigger than my grade school's gym. I was escorted to the counselor's office for all of the visits but then found myself asking for directions from random students on how to get back to the main office. I don't know how the students get around their school. I also was placed in some pretty unique meeting areas from lunch rooms and district office conference rooms. However, meeting with a student in the nurse's office was by far the most interesting spot. To make things more unique, the student was sitting on the exam table during the visit. Luckily, the secretary came in towards the beginning of the presentation and moved us across the hall when another student came in to the nurse's office…to see the nurse. Weird, huh? Luckily, I didn't get sick that day and came away with a memorable story. 
Other than high school visits, I also tabled my share of college fairs in Iowa, Minnesota and South Dakota. Even though the conversations with students were short, I made sure they came away with valuable information worth remembering and could reach out to me with any questions. Throughout the traveling season, I found students liking college fairs better than high school visits. I think it's because of the amount of information they can gather from so many universities in a short amount of time compared to a half hour of information on one university. As much as I personally think both HS visits and fairs are beneficial, the way to most efficiently communicate with a student varies across the spectrum. Other than the student interactions at the fairs, I enjoyed meeting counselors from all across the Midwest. It made the day go by quicker when you consistently had somebody to banter with about stories on the road. I'm definitely excited to see them all again in the spring.
Overall, after 103 high school visits, 15 college fairs, 7,000+ miles on the road, and 30+ hotel stays, my first fall travel season was both adventurous and educational. I learned a lot about what various majors students are finding popular these days but also what counselors are doing to encourage their students to further their education. However, I could not have done it without the positive motivation from group chats with my colleagues and the check ins with my supervisor.
As much as it looked like I was driving down a county road by myself, these last two months I was never alone.
Share this post: