Earlier this month, NACAC publicized data illustrating student-to-counselor ratios in high schools across the country. The interactive maps draw on data from the 2015-16 academic year, and illustrate how counselor caseloads vary from district to district. The data illustrates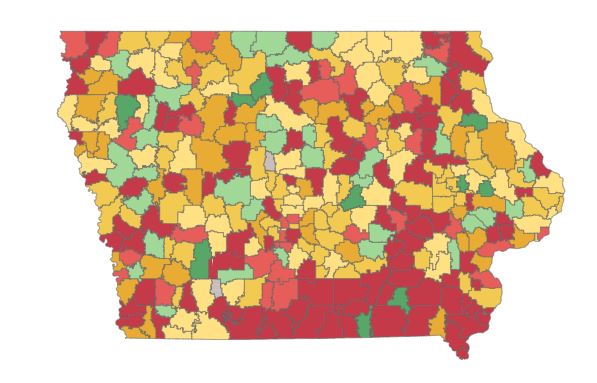 significant equity gaps within certain states.
Within our own state, only eleven school districts fall below ASCA's recommended 250:1 student-to-counselor ratio. Several dozen districts across the state are double the recommended ratio, leaving school counselors with caseloads over 500 students.
The excerpt below, from the 2018 State-by-State Student-to-Counselor Ratio Report, explains the need for reducing counselor caseloads in high schools across the country in order to best serve students and prepare students for life after high school:
"Both NACAC and ASCA advocate for more state and federal funding to hire, train, and equip school counselors in public schools. Our intention in producing this data is to shed light on the often unmanageable caseloads public school counselors must serve. Research shows that access to a school counselor can make a significant difference in student persistence/retention, students' postsecondary aspirations, and students' likelihood of enrolling in postsecondary education.
To realize such results, school counselors must operate in an environment free of overwhelmingly large student caseloads. In addition to a high national student-to-counselor ratio (482:1), the federal government must take into account widely varying ratios among the states. Inequitable access to school counselors across the states suggests a federal role in equipping all students, regardless of their state of residence, with the resources they need to succeed.
States must increase their investment to ensure the full benefit of school counseling programs. ASCA recommends that schools strive to maintain a 250:1 student-to-counselor ratio."
School counselors in the state of Iowa are feeling the impact from high caseloads in a variety of different ways. Sheryl Cline, President of the Iowa School Counselor Association, Iowa ACAC executive board member, and school counselor at Linn-Mar High School, shared some of her insight as to how these numbers impact the day-to-day work of school counselors and their students.
"I think the caseload report reflects what school counselors around the state likely already know. The most concerning part of the report is that school counselors have incredibly high caseloads in rural areas where students and families also lack access to mental health resources. We know that college and career readiness is not just about whether students are academically prepared, but also have the social/emotional skills to live independently after high school. School counselors are vital in schools to ensure students have those skills for life after high school.
Having worked in a rural district, the superintendents and principals are put in a tough position where they have to decide between hiring a teacher or a school counselor. They often have to prioritize what is most important to meet the academic needs of students – as those are most prominently measured and reported on state-wide.
I just started my 5th year at Linn-Mar and have seen enrollment increase each year since I got here.  Our caseloads have increased in the 9-10 office as we have larger class sizes in the lower grade levels. We will continue to see this trend where class sizes continue to increase as our younger students advance grade levels. We are currently building two intermediate buildings and there is a concern that they will not be adequately staffed with school counselors. Larger caseloads mean it is more difficult for me to identify students in need of help. Our traditional indicators (grades and attendance) do not always allow us to find those students who are quietly just getting by. We rely heavily on parent and teacher referrals to help those students. In terms of college/career planning, we are able to get into classrooms, but the ability to spend the necessary time with individual students is limited. Our goal is to meet with every student each year, but those minutes are a structured 15 minutes to cover a lot of planning material.
The main thing that we want admission counselors to understand is that our roles in schools vary widely between districts and between grade levels. Some counselors are in charge of master schedules, spend a lot of time scheduling, and doing other non-school counseling duties. With such large caseloads and inappropriate roles, they don't have the opportunity to get to know all of their students to be able to complete counselor recommendations thoroughly.  Those students who aren't in our offices regularly may get a brief and general recommendation rather than something detailed. It is really a lottery of who those students might be."
How can we advocate for change within our state? Visit the Hill? When asked how we as admission counselors can be allies to school counselors in our state, Sheryl Cline said the following:
"If there are events that you can offer at your schools that assist with applying to college and de-mystifying the financial aid process, it helps us get students informed and involved. At Linn-Mar we work with admission counselors to create a visit day where students could also apply for admission. It helped some of our disadvantaged kids along the process. Another thought is to have a regional visit day – bring together students who attend the same high school (like Linn-Mar students go to the same day) or students from surrounding schools (Central City, Monticello, and Springville kids all come on the same day). Those are just quick brainstorms of different ways to connect students to your college to get them beyond the leap from high school to college and reduce the summer melt."
While sobering, this data from NACAC can serve as a reminder to admission professionals that we need to be allies to our school counseling colleagues and to always remember the pressures faced by school counselors. Armed with this information, we should have conversations within our offices about how we can provide support to students and counselors in new and innovative ways and share with them any resources provided by our institution that could be helpful. As we move throughout our busy travel season, this is also a good reminder to be patient with our school counselor colleagues and remember that they have a world of responsibilities beyond college preparation. Despite the pressures faced by both professions, we can work together as a team to support college-going among Iowa high school students.
Share this post: